Viking Energy Network Jarrow Updates
Key Updates
The Viking Energy Network Jarrow (VENJ) team are working hard on and off-site towards key programme dates. Our Site Manager provides us with continual updates and progress reports. Hear from our Site Manager on how things are developing on this UK-first renewable energy scheme.

How is progress on the Viking Energy Network going?
September 2021: Progress is going as per our programme. We got off to a slow start due to existing ground conditions. We had to remediate the site to allow piling to commence and had to go from vibro pile to precast driven concrete pile.
The district heating side of things is progressing, and we are on schedule. The install has begun with 2km of insulated pipe being placed throughout Jarrow.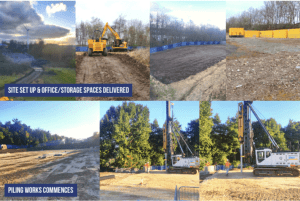 ---
November 2021:There has been a number of key project areas completed or nearing completion within the last two months. I have taken on the project management of this innovative scheme from the competent hands of Stuart Sharpe.
The track to the outfall has been finished and the foul drain and interceptor are also complete. The energy building foundations are almost finished. We have inspected the jetty and found that it needs some repair before load testing can commence. Progress is also being made with the surface water drain located not far from the site. The district heating pipes have been laid to the end of section 4, which is now being backfilled and we are excavating section 5.



---
January 2022: Groundworks and Substructure on the energy centre progressed through to December 2021 when the first stage of the steel structure was installed. The next step is the installation of the Precast concrete slabs. The water abstraction bridge manufacture is underway and approximately 35% of the District Heating Network route has been completed. We are currently nearing the end of Section 5, installing District Heating pipe across Western Road. District Heating pipework has been laid and tested at the Energy Centre Building, Jarrow Business Centre and the route along Rolling Mill Road.

---
July – August 2022: A couple of big milestones taking place on the Viking Energy Network Jarrow (VENJ) site. The cladding has been installed on the energy centre building and parts of the water abstraction bridge were delivered in July. In August, great teamwork was shown from all on the Viking Energy Network Jarrow site. Sections 1 and 2 of the Water Abstraction Bridge were lifted onto the staithes and fitted securely.
---
September – October 2022: The team on the VENJ site continues to make great progress. The CHP, boilers, thermal stores, pressurisation units, side stream filtration Water Source Heat pump and HV/LV switchgear and transformer have all been positioned within the Energy Centre building ready for mechanical and electrical connection. The main electrical containment, small power and lighting have also been completed within the Energy Centre. Services such as gas, water, electric and BT Ducts are being installed and the plantrooms are modified to accept Danfoss substation skids. The district heating network section 8 is near completion with the final section being prepared.
---
November 2022:The Viking Energy Network Jarrow project continues to advance on both the Energy Centre Site and along the District Heating Network route through Jarrow. All of the large mechanical is in place and the pipework installation is underway at the pumps, boilers and the Water Source Heat Pump. The PV field groundwork is being prepared for the installation of the PV support bases after a great deal of work filling and levelling the existing land. The District Heating Network route is now in Section 9 of 11 which is on track to be completed prior to Christmas.
---
January 2023: The Viking Energy Network Jarrow project is approaching completion of the construction phase and moving into the testing and commissioning stages. This is scheduled to be carried out over the next 12 weeks with usable heat being delivered in early April. Works will involve mechanical and electrical testing of the installation, commissioning of the heat pump, backup heat sources and Energy Centre equipment. The PV farm and storage batteries will be brought into service along with pressure testing, flushing and conditioning of the District Heating Network being carried out.
---
February – March 2023: The VENJ project has now entered the first stage of testing and commissioning with target dates being set for usable heat being created in order for South Tyneside Council to meet RHI deadlines. Filling and Pressure Testing of the network has been completed and water treatment is underway. Installation is ongoing within the PV Field and groundworks have been completed for the newly added Solar Thermal System as an additional source of heat for the District Heating Network.
---
April 2023: Another successful month for the Viking Energy Network Jarrow. The first stage of Testing and Commissioning has enabled the South Tyneside Council to meet their deadline for the RHI Grant requirements of producing usable heat in the network. With this milestone met, Colloide and our subcontractors are continuing with the Testing and Commissioning of all installed kit in the Energy Centre and the Network Plantrooms over the upcoming weeks.

Have there been any challenges you have overcome?
We have had to overcome existing ground conditions and change the design slightly to suit this. This is not unusual in construction. All parties have contributed greatly to the Viking Energy Network Jarrow and have kept the job moving in the most efficient way whilst overcoming these minor problems.

What other companies are currently involved in this project and how have we worked alongside them?
Durotan are installing the district heating and are experts in their field at this and are producing quality workmanship. They are digging the trench on the street works side, installing all ductwork and a HV cable. All of this is through challenging ground conditions with lots of existing services.
Colloide are working alongside the project team carrying out all mechanical and electrical design and installation. Paddy McGuinness, Managing Director and Shaun Hannon, Commercial Manager, alongside myself, assist in managing all site employees and sub-contractors.
Colloide have a range of highly skilled project managers, engineers and site-based employees. Together with talented personnel, years of experience in Project Management and utilisation of project management plans we have been ensuring the efficient labour, materials and equipment that coincide with the devised programme for the VENJ project.
All parties seek to complete this project to the highest standard with particular emphasis on operations being carried out in a manner that protect the Health and Safety and welfare of site workers, client representatives and the general public.
How have you been managing the health and safety of the workforce, public and any others at risk during the delivery of this project?
Colloide are aware that this project poses a variety of hazards to not only our own workers but also to the public. The management of Health and Safety is always our highest priority. We plan, manage, conduct and supervise all our work in compliance with the Health and Safety at Work Act 1974.
Colloide have a comprehensive H&S management system in place. At the heart of this system, we have been monitoring work on all our sites to ensure compliance with policies and also law. Risk assessments have been carried out alongside other H&S documentation. Pedestrian access has also been managed and we have identified local issues such as footpaths where it may be necessary to consider appropriate closure or diversions. The boundaries of our work areas have now been physically defined by suitable fencing, so that the general public are protected while work is in progress.

Colloide takes great pride in the high standards of services that we provide to our customers. Recently, we passed our NQA ISO recertification audit and have been awarded the ISO 9001, 14001 & 45001 certificates for the quality, environment, occupational health & safety standards for another 3 years. Not only did we achieve the accreditations, but we did so with flying colours without any non-conformities to our fully integrated management system for the second year in a row. You can download NQA's Colloide Engineering Case Study for more information on our certification success.
How are Colloide minimising their carbon footprint on this project?
There is an extensive list of processes we have been following and others that are in planning that are all undertaken to reduce our CO2 emissions. The very nature of this project promotes CO2 savings, so it is of vital importance that we are protectors of this and provide a good example for future schemes.
Through our engineering and design we aim to work with the Water Source Heat Pump supplier to ensure the overall system achieves the best Coefficient of Performance possible, thereby minimising CO2 emissions. Colloide have been working hard to build as much equipment off site as possible, with a view to minimising waste and work done on site. This in turn helps us to achieve a more efficient manufacturing process in our workshops. On this project we are looking at the offsite pre-assembly of CHP, boilers and pontoon equipment, which will greatly reduce our carbon footprint and provide greater protection to the local environment surrounding the VENJ.
Do you see this innovative project as a model for future schemes?
I think all eyes are on this project and when completed I think all local authorities around Britain and globally will be looking to use this technology. It is a first of its kind project and will be impressive because of the savings it can produce on carbon emissions and that it is using the river water as a clean and readily available source for energy.
We also are pricing to extract water from the disused mine shafts in the area and use them as a source of heating. We as a collective around the globe need to stand up and take notice of what energy we use and the impact it is having on our planet. Not just for our future but our children and grand children's future and generations beyond.
Learn more about the Viking Energy Network Jarrow

Get in touch
If you'd like to know more about the Viking Energy Network get in touch
Colloide has a strong base of experience in providing renewable energy solutions to the agricultural, industrial and municipal sectors. This experience allows us to assist a range of organisations in becoming more sustainable through lowering their carbon footprint. Discover our full range of innovative technologies.